[More Cartoons]
---

Copy this button (courtesy of R.Siddharth) to express your rejection of Facebook.
---
---
---
---
---
---
---
---
E-books
Non-oppressive Commercial E-books
---
Don't use Facebook
Facebook's face recognition demonstrates a threat to everyone's privacy. I therefore ask people not to put photos of me on Facebook; you can do likewise.
Of course, Facebook is bad for many other reasons as well.
---
---
---
---
No national identity cards
I'd like to make a list of countries that do not require a national identity card, and have no plans to adopt one. If you live in or have confirmed knowledge of such a country, please send email to rms at gnu.org.
Here's my list of countries with no national ID cards and no plans for one: Australia, Canada, Ireland, New Zealand, UK, the Philippines. Australia's previous government tried to institute national ID cards, but the Labor government dropped the plan.
India is now trying to institute national ID cards. Support the campaign against them.
Switzerland has national ID cards which are optional, but they or some other government ID card are needed for some purposes.
Iceland doesn't have ID cards as such, but they have ID numbers that citizens are forced to use frequently. For example, the national ID number is often required to rent a video or use a gym.
Denmark issues non-photo ID cards with a "person number", and many services use this card to identify people.
Norway will impose a national biometric ID card.
Wikipedia has a list of identity card policies by country.
---
Borders
Stay away from certain countries because of their bad immigration policies.
---
Flight connections
Avoid flight connections in these airports because of their treatment of passengers.
---
The Lifelong Activist
People often ask how I manage to continue devoting myself to progressive activism (such as the free software movement) for years without burning out. The best way I can answer is by recommending a book, The Lifelong Activist by Hillary Rettig.
I disagree with the book on one theoretical point in the last part of the book: we shouldn't think of political activism as being marketing and sales, because those terms refer to business, and politics is something much more important than mere business. However, this doesn't diminish the value of the book's practical advice about borrowing techniques from marketing and sales.
Disclosure: I am friends with the author.
---
Mimi and Eunice
The Mimi and Eunice book by Nina Paley is great.
---
Solidarity Economy and Free Software
Personal Declaration of Richard Stallman and Euclides Mance on Solidarity Economy and Free Software.
---
---
These are my political articles that are not related to the GNU operating system or free software. For GNU-related articles, see the GNU philosophy directory. You can also order copies of my book, 'Free Software, Free Society, 2nd edition', signed or not signed.
Adapting the Marseillaise to the greatest threat to civilization.
Proposing the Logo Sea Turtle — for Whales (October 2015)
Controlling When the Cameras Record (August 2015)
A few words to Greece (June 2015)
Fixing Too Big To Fail (Apr 2015)
What I said about Hrant Dink in my talks in Turkey (Apr 2015)
Suggestion to the target of a witch hunt (Feb 2015)
Nonexistence (Feb 2015)
The Thermocene Epoch (Feb 2015)
Digital Voting. (Jan 2015)
My letter asking the judge not to sentence Jeremy Hammond to prison. (Jan 2015)
Internet Voting (May 2014)
The patent system is, at best, not worth keeping. (February 2014)
Why We Need A State (November 2013)
Beyond Intimidation of Journalists (August 2013)
We can put an end to "too big to fail" with an innovative tax that also defeats corporate tax-dodging. (August 2013)
The Apology That Calls For An Apology (August 2013)
Turkey has woken up from its sleep during the AKP's fascist regime. -- Cansu Colakoglu in Taksim Square, 1 June 2013 (Updated 26, June 2013)
Exxon and the Letter Exx. (April 1, 2013)
Vote for Benjamin Kallos for New York City Council (March 2013).
Fixing too big to fail (February 2013)
Why internet music "sale" is a bad deal. (January 2013)
Why being able to watch your boss's life is no compensation for his being able to watch yours. (December 2012) (local copy)
Why I can't support Obama. (September 2012)
Why it is important not to have children. (September 2012) French Translation
On-line education is using a flawed Creative Commons license (September 2012) French Translation
A response to an inquiry about the September 11 note. (September 2012)
We need a new 911 investigation. (September 2012)
Response to Emily -- the NPR music intern. (July 2012)
Suggestions for National Constitutions. (Updated July 2013) Albanian Translation.
Redistributable Scientific Publishing (April 2012)
ACTA Threatens Your Freedom (first published in Poland, by Tygodnik Powszechny) (February 2012)
My Doctor's Office Asked me to Lie (August 2011)
Internet Privacy (in German).
Italy's Choice: Sharing or Censorship (in Italian)
A video message in Spanish supporting the protests in Spain in 2011. Also in webm format. (June 2011)

Regarding Mark Vernon's attack on Peter Singer's philosophy. (May 2011)

How Egypt can help Libya. (Feb 2011)

Protect Your Friends — Protect Julian Assange (Jan 2011).

Global Patronage: This describes the Global Patronage system of supporting artists on the Internet. Francis Muguet and I were working on it together at the time of his death in September 2009. He sent me a draft for version 1.2.1, and I responded with this modified version which I call 1.3. The principal change was to describe correctly what sort of function would be used to calculate the shares of the non-attributed funds. I did not expect him to have any objections, but he died before responding. (French Translation)

Kettling Wikileaks: the Anonymous protests are the Internet equivalent of protests on the street. (Spanish Translation and Norwegian Translation)
Internet Sharing License in Brazil. Internet taxa de licença para o compartilhamento (Portuguese version). Spanish version. Also see compartilhamentolegal.org.
A letter to Costa Rica (about the referendum on the proposed sweatshop treaty with the US).
An interview about the Steamed Bread Murder Case and what it implies about right and wrong and copyright. (This is the English version—it was also published in Chinese.)
A letter on the Animal Rights movement.
A response to Financial Times article on "intellectual property rights".
Here's a recording of a radio show that I was on.
A slightly revised version of an article that appeared in Salon Magazine on 11 September 2002.
On July 22, Israel killed a Hamas leader, Salah Shaheda, who was in charge of many Hamas attacks.
Political fencing in Israel.
I got a message with a series of points criticizing Americans for blaming companies and institutions rather than themselves. I partly agree with the underlying message that people should take charge and solve problems, rather than just cast blame on others. However, the points go too far—they whitewash companies and institutions that really did something wrong.
British book publishers plan to put a microchip into every book to record who owns it — an unprecedented surveillance measure. Given the publishers' opposition to such institutions as free lending libraries and used book stores, we must suspect that this scheme is aimed at them. Will they try to collect a fee every time a used book is resold, as part of storing the new owner's name on the chip?
Good Fences Make Good Neighbors. I was shocked to learn recently that there is no border fence dividing Israel from the occupied Palestinian territories. The reason is that expansionists want to annex these territories permanently. In their eyes, a fence would be an admission that those territories are not part of Israel, so they won't allow it.
When President Chavez of Venezuela was ousted in a military coup, newspaper coverage in the US hinted that Chavez was mentally unstable. He thought he could make his country independent of the IMF. He thought that the generals of his Venezuela would be loyal to Venezuela instead of Washington. A man would have to be crazy to believe such things—or would he?
When police say "No witnesses", one must suspect they are up to some kind of dirty work that they don't want to admit to the public. An encounter in a Paris airport.
Human Rights in the US, and in China. The Chinese government has released a report detailing human rights violations in the US. The abuses include torture of detainees by police, sometimes resulting in death. All governments should be pressured to correct their abuses of human rights; from Bolivia to Spain, from the US to China, no government should escape.
Someone to watch over me. Nowadays, just because you're paranoid doesn't mean you aren't really under surveillance.
Stopping terrorists before they start. Making sure that the CIA does not create new enemies to attack us tomorrow surely deserves high priority in any sincere "War on Terrorism".
Bush has proposed a large increase in military spending, including pay raises for soldiers, reserves to cover the expenses of possible combat, unmanned vehicles, and ballistic missile defense. Some of these make sense, more or less — but ballistic missile defense? It's clear what is happening here: Bush is at his old tricks.
The Injustice of Military Courts. Bush has a plan to try alleged terrorists in military courts—-courts where the prosecutor, the defense lawyer, and the judges all work for Bush. If we could only be sure that the accused are really guilty, shoddy trials would not matter—we wouldn't need trials at all. But accusations against innocent people happen with terrible regularity, and the danger of false convictions is immense.
Police State Minus One Day And Counting. In late October Congress signed an anti-terrorism bill that undermined basic protections against police intrusion. It also attacks freedom of assembly. This article was originally published on Newsforge the day before the bill (S.1510) was passed. The only proposed provision that Congress rejected was that for indefinite detention of noncitizens without trial; Bush then proposed military trials as a way to get the same job done.
Who watches the watchmen? Whenever police ask to be allowed to bypass search warrants, we must be on guard. First published on Newsforge.
If we are not careful, the deadly attacks on New York and Washington will lead to far worse secondary damage, if the U.S. Congress adopts "preventive measures" that take away the freedom that America stands for. Thousands are dead — but millions could be deprived of civil liberties. First published on Newsforge.
While traveling from South Africa to Sweden in June, I became a victim of the War on Drugs. First published on Newsforge.
Science must "push copyright aside." Written for a debate about electronic access to scientific literature. First published 8 June 2001.
The antidemocratic suppression of public protest is now a standard part of the effort to impose antidemocratic trade treaties.
Waiting for the Knock, an article about Britain's plans for secret police raids to seize decryption keys. First published in the Guardian (London), 25 November 1999.

Sad to say, this law was adopted in Britain in July 2000. Residents of the UK must now start using steganography to protect themselves from secret raids.

Although generally supportive of President Hugo Chávez, Stallman has criticised some policies on television broadcasting, free speech rights, and personal privacy rights, in meetings with Chávez and in public speeches in Venezuela.
"Those who profess to favor freedom, yet depreciate agitation, are men who want crops without plowing up the ground. They want rain without thunder and lightning. They want the ocean without the awful roar of its many waters. This struggle may be a moral one; or it may be a physical one; or it may be both moral and physical; but it must be a struggle. Power concedes nothing without a demand. It never did and it never will."
Here are notes about various issues I care about, usually with links to more information. The current notes are here. For all previous notes, see this page.

Political notes about the 2001 G8 summit in Genoa, Italy are being archived on their own page

(jpeg 2k) (jpeg 64k) There is a black-and-white photograph of me as a 5820K Encapsulated Postscript file, a 3762K JPEG file, and a 5815K TIFF file.
Here is a color photo in JPEG format.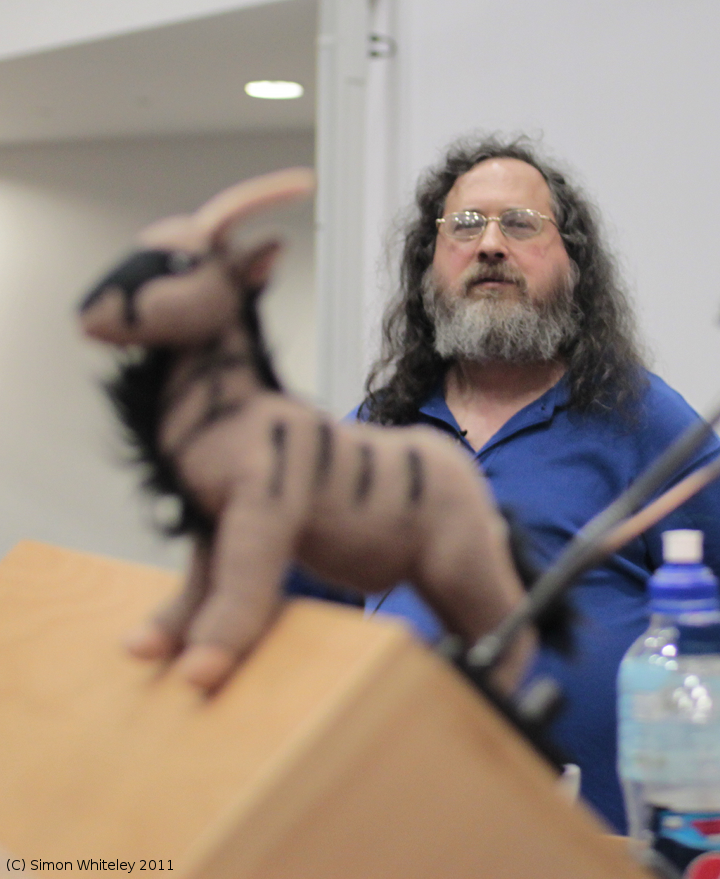 Here is a more recent photo.
"You assist an evil system most effectively by obeying its orders and decrees. An evil system never deserves such allegiance. Allegiance to it means partaking of the evil. A good person will resist an evil system with his or her whole soul."

-Mahatma Gandhi
A watercolor portrait by Marco Novo (released CC0 "No Rights Reserved").
A photo of a painting of me.
A drawing of me.
A photo of me, in Svalbard, wearing a snowmobile suit. Taken by Håkon Wium Lie, released under CC BY.
A photo taken by Bill Ebbesen at the Danish Technical University on 2007/03/31. It is free to use and redistribute (placed in the public domain worldwide by the original copyright holder).
Photos from Copyright vs. Community event, Jan 31, 2008.
A
photo
from a recent interview.
A photo of RMS with a large "aureole" by Roberto Brenlla.
An imaginative painting of Richard Stallman, by Jin Wicked.
Another drawing of me, by Banlu Kemiyatorn.
---
Earth under attack from planet Koch.
On doxing, and how to spell it.
A Spanish cartoon: La Ruleta Española.

Here I am wearing my "power tie".
Here I am struggling to open a bottle of water.
My application to an join Marian Henley's Ex Boyfriends List
My funny poetry and song parodies
New song (10/2013) - Poppycock
My Puns in English (New pun: "Cabin Baggage", February 2016).
My Puns in Spanish (New pun: El jaguar muerde December 2015)
My Puns in French (New pun: « L'ail en chemise » 01/2016)
My Puns in Italian (New 09/2014)
My Puns in German (New 02/2016)
Linguistic Swifties (Now with: Wintu, Penutian, Cochiti, Taos, and Towa.)

--Saint IGNUcius-- The Church of Emacs will soon be officially listed by at least one person as his religion for census purposes.
There are no godfathers in the Church of Emacs, since there are no gods, but you can be someone's editorfather.
Stallman Does Dallas: "I have to warn you that Texans have been known to have an adverse reaction to my personality . . . "
The Dalai Lama today announced the official release of Yellow Hat GNU/Linux.
I found A funny song about the Mickey Mouse Copyright Act (officially the Sonny Bono Copyright Act) which extended copyright retroactively by 20 years on works made as early as the 1920s.
If you are a geek and read Spanish, you will love Raulito el Friki, who said "Hello, world!" immediately after he was born. Here's an archive of this now-defunct comic strip.
Sleeping with Stallman at MIT.
ESR's favorite programming language: Objectivist C.
The huns and the writs. I don't know who wrote this, but I hope he does not object to sharing it here.
No Kludges in Cluj (June 2014)
A science fiction story: Jinnetic Engineering (in Portuguese, Farsi, Spanish, Armenian, Russian, French, and Italian).
Made for You (December 2012) (local copy)
My book of essays about the philosophy of Software Freedom, is available from the GNU Press.
My radio program of Music from Georgia, originally broadcast on WUOG in Athens, Georgia on Oct 13, 2014.
Quantum Theory and Abortion Rights
A proposal for gender neutrality in Spanish, suitable for both speech and writing.
On Hacking: In June 2000, while visiting Korea, I did a fun hack that clearly illustrates the original and true meaning of the word "hacker".
Predicting the attack on Pearl Harbor
I would like to thank:
Positive Internet for sponsoring this web site.
Pawel Bokota, Lake Denman, Mark Eriksen, Eduardo Freitas, and Joe P. Lee for installing new text.
Mark Eriksen for providing the new search feature.
Craig Metrolis for working on making pages valid html.
John C. Vernaleo for helping to run the site.
Graziano Sorbaioli for improving the layout of the main page.
---
Please send comments on these web pages to rms at gnu period org.
Copyright (c) 1996, 1997, 1998, 1999, 2000, 2001, 2002, 2003, 2004, 2005, 2006, 2007, 2008, 2009, 2010, 2011, 2012, 2013, 2014, 2015, 2016 Richard Stallman
Verbatim copying and redistribution of this entire page are permitted provided this notice is preserved.
Verbatim copying and redistribution of any of the photos in the photos subdirectory is permitted under the Creative Commons Noderivs license version 3.0 or later. You can copy and redistribute the photo of me playing music to the butterfly under the Creative Commons Noderivs Nocommercial license version 3.0 or later. Any other photos of me in this (the toplevel) directory may be copied and redistributed under the Creative Commons Noderivs license version 3.0 or later.